The Story of AppleGarden Farm & Cider
We purchased our farm as bare ground in the late fall of 2007 from the old Cerini estate close to the historic town of Tomales, in Northern California. With extremely limited water availability, we decided to plant semi-dwarf trees that would utilize a drip irrigation system in the early years while getting established, and then convert to "dry-farming" as the trees matured.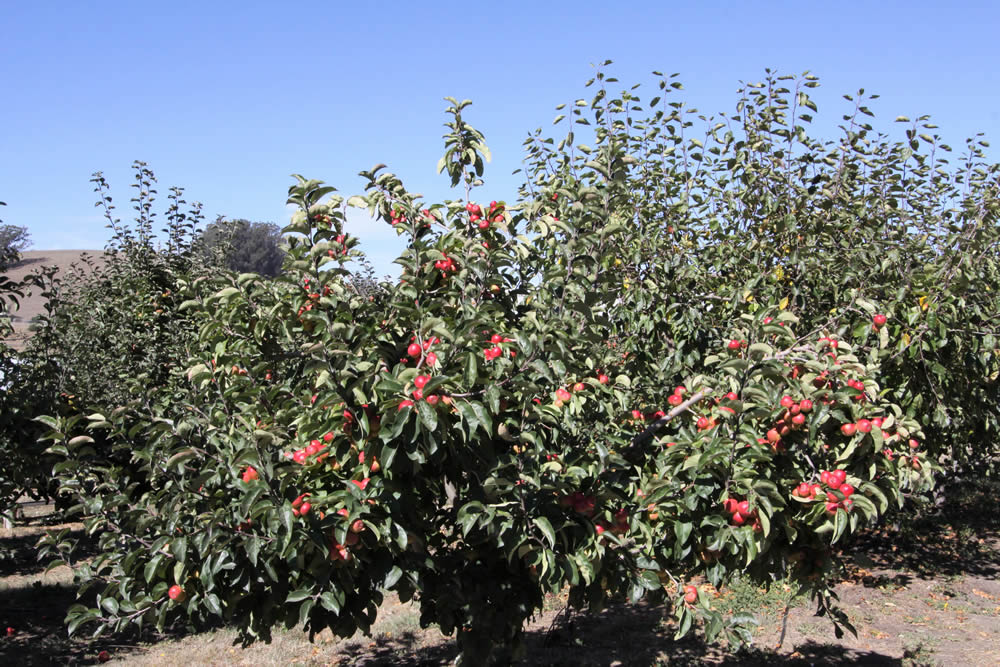 We started with several mid-season varieties with a few early sweet apples. Coupled with several crab-apple varieties, this would create the blend of bittersweet that we were hoping to end up with. Our trees are of the venerable cider-types: Kingston Black, Ashmead's Kernel, Calville Blanc, Golden Russet, Roxbury Russet, Nehou, Stayman Winesap, Tremlett's Bitter, Hauer Pippen, Foxwhelp, and Campfield. We also planted Transcendant Crab, Wickson Crab, and Red Vein Russian Crab along the driveway leading to our orchard. Committed to organic farming, our farm is certified by Marin Organic Certified Agriculture (MOCA).
We field-mix our apples after picking, pressing as they ripen with no particular variety in each batch.
We also wanted to have a complete hands-on operation: we would not only grow and hand-pick all the apples, we'd also take care of all the other operations that go with cider making – sort, wash, grind, and press. After picking the apples as they ripen, we store them at a controlled temperature for a couple of weeks so they completely develop all the inherent sugars. We then wash, sort, and press, putting the juice into 30-gallon drums to ferment. Using all-natural yeast, we watch the fermentation closely and when it's finished, rack into another stainless-steel drum to mature. When we decide the cider is ready after a few months, bottling and labeling is done by hand so that each bottle is the perfect result of months of loving care.
We hope you enjoy this delicious cider!